Fantastic Article from DrumUp.
I came across this today and just had to republish it in full. Enjoy!
20 Top Social Media Marketing Trends for 2017 – The Ultimate List
Posted in :
News & Trends
,
Social Media Tips
on   By  
Disha Dinesh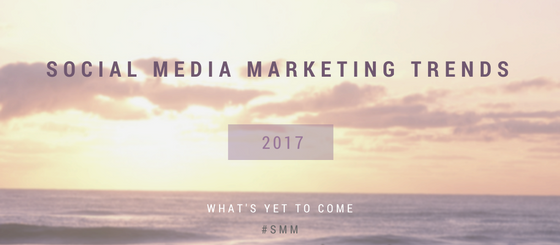 In about a decade of their existence, social media platforms have acquired over 2.3 billion users worldwide, according to Statistia's records. It has become abundantly clear that social media isn't just a passing phase, and is here to stay.
Social is also evolving rapidly. Here's a quick recap of the leaps that social took in 2016 –
Facebook introduced 360° photograph and video upload
WhatsApp launched video calling
Google launched Duo and Allo
Pokemon Go captivated the world with augmented reality
Social media has become a way of life and is also affecting businesses. Marketers are increasingly using social networks to reach out to their audience. As 2017 comes closer, what social media marketing trends should entrepreneurs, marketers and business owners look out for? Let us begin with the most important one.
1. Businesses of all sizes will adapt to social media automation
So far, mostly large organizations with huge budgets have inducted social media tools to automate their marketing efforts. According to IMCS 360, 92% small businesses are losing out on revenue because they have ignored automation. 2017 will very likely see more organizations, of all sizes, incorporate marketing automation.
Social networks have diverse demographics, and to reach your target groups, you need to be present on multiple social platforms. You also need to be consistent with your outreach across all your social media accounts. This is where automation comes in and saves the day. For instance, DrumUp lets you manage multiple social accounts by connecting all of them to a single platform. The group scheduling and content library features can help you sort, edit and maintain a certain consistency across all your social media presences – crucial in establishing your brand identity and enabling better brand recall.
2. Native advertising will experience an uptrend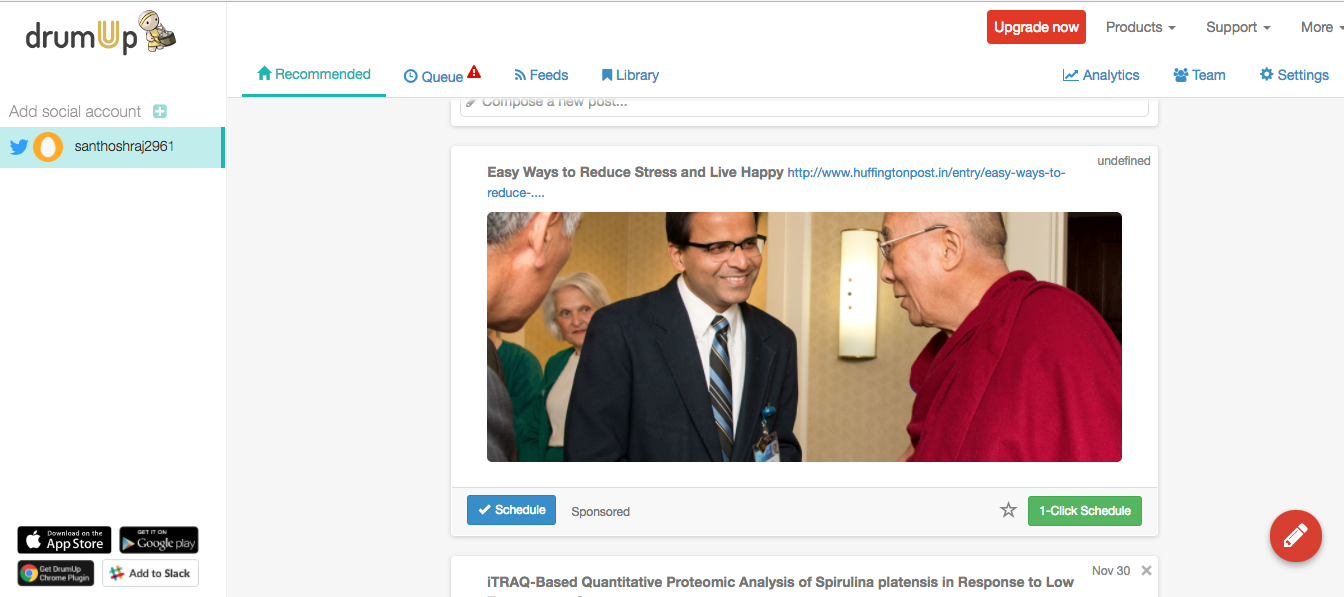 In Jeff Bullas' words, social is becoming just another paid media. Organic reach has been on the decline in the last few years, and social advertising is also becoming more competitive. According to a study conducted by Socialbakers, brands are promoting posts 120% more now than in 2013. To get your content noticed, you may have to seek alternative routes – like native advertising.
Joe Pulizzi believes that native advertisement is a promising promotional outlet, and has seen companies succeed with paid native advertising. In fact, the niche is discussed on his "This Old Marketing" podcast almost every week. Further, emarketer found that 34.4% more Americans used ad blockers in 2016 as compared to 2015. Ad irritability is a rising statistic, and to get past that block brands need tactics that are less in the face and more subtle – like native advertising.
Twitter's ads (in-stream and promoted trends) fit seamlessly into their surrounding. Platforms like DrumUp also help you promote your content by suggesting it to exactly the right people (people who are seeking it) – a powerful way to earn more visibility for your content.
3. More brands will invest in employee advocacy

In the last three years, the interest in social media employee advocacy programs has grown by 191%, according to a study conducted by Pardot. More companies are realizing the value of social media advocates and investing in them.
If you read posts on employee advocacy this year, you may have seen the constant reference to Nielsen's consumer trust report – the one that revealed that social users trust information shared by friends and family over information shared by any other source. Employee advocacy enables you to tap into your employees' personal channels, giving you credibility and influence. In fact, several marketers are adding micro-influencers to their list of influencers to active, and employees are your most easily accessible set of micro-influencers.  With DrumUp's employee advocacy platform, you can activate employees easily using the gamified content sharing system that acts as a powerful motivator.
4. Live streaming will spread like wild-fire

Several social media networks have already adapted versions of live streaming – Facebook's Live, Twitter's Periscope, Meerkat and Blab being a few. According to a study conducted by two top market research firms – Zanthus and FocusVision, 41% of cable and satellite TV subscribes intend to discontinue or cut-back on subscription soon. In 2015, YouTube earned about 9 billion dollars in revenue, as estimated by expert analyst Ken Sena. Video consumers are switching from TV to social and digital. Content producers and marketing professionals are likely to follow them there.
If you don't have a Facebook Live strategy yet, it is time to get one.
5. Social media marketers will increasingly target messaging apps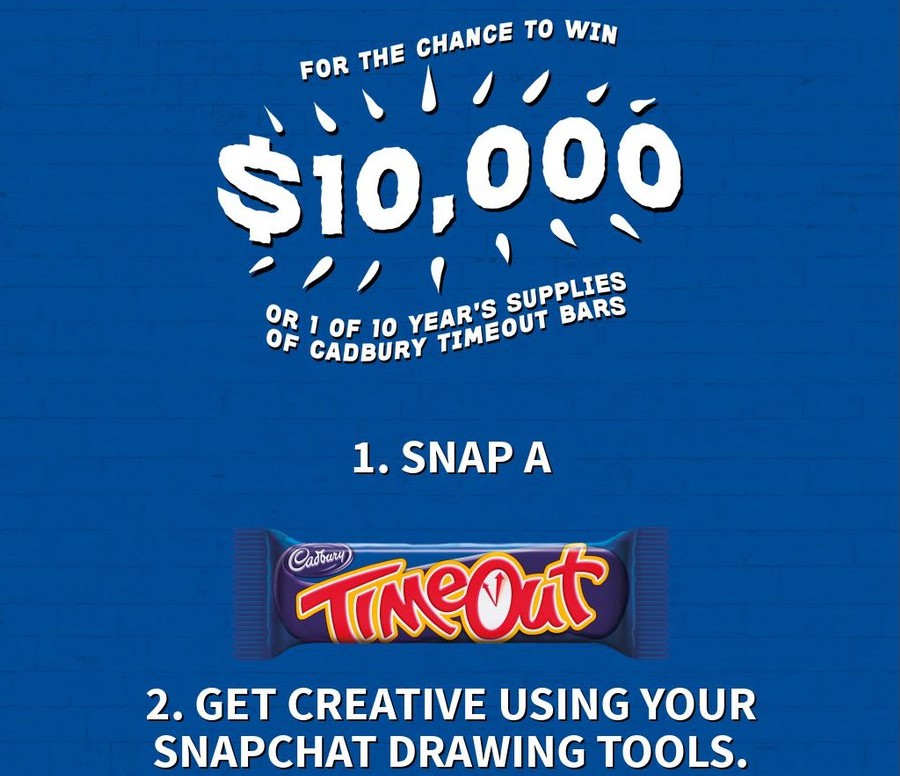 It has been two years since Forrester claimed mobile to be the new face of social media, it being one of the quickest online behaviors to grow. Messaging apps currently have over 4 billion users combined (Source: Statista). Additionally, messaging apps are convenient, frequently used and have an element of emotional connection. This offers marketers an interesting landscape to work with .
The idea of brands being able to communicate with customers one-one-one (via messaging apps) is exciting, as Director of Social and Emerging Media (North American division) at VML, Chad Martin, has said. The hurdle, as he has pointed out, will be delivering custom content to fit each customer's specific needs, based on what we can learn from their behaviors. It will be interesting to see companies develop tech to solve this problem. Forrester experts Thomas Husson, Xiaofeng Wang and James L. McQuivey expect messaging apps to specifically affect the retention phase of a customer's life cycle. Social media marketers will do well to keep an eye out on that space for emerging solutions.
6. Co-created and user generated content will take center-stage

Social media users are highly engaged, and social advancements are enabling them to do more with the platforms. People are likely to participate and help brands create content, given the opportunity. All that is required is the right motivation and context for social users to want to participate in content creation.
Social media campaigns based on user generated content are on the rise, and so are platforms that help brands source user generated content – like ShortStack and ReadyPulse. Marketers are also working with non-competing companies targeting similar audiences to co-create and promote content. An interesting manifestation of this trend is employee advocacy – where companies co-create and distribute content with employee support. On DrumUp's employee advocacy platform employees can suggest posts for their colleagues and the company accounts to share.
7. Social media platforms will continue to evolve
Social sites will further improve user experience. As David Brickley has pointed out, search on SnapChat in one area where development can be expected. At present, users need to guess celebrity SnapChat handles and search for them on Google to follow them.
Another change to watch out for is with the Facebook news feed curation algorithm. Currently, you curate your news feed based on whom you follow and what you talk about on social. As Bryan Kramer has pointed out, it is very easy for you to surround yourself by people and content that agree with your thinking. Facebook CEO Mark Zuckerberg believes that the social network doesn't influence major events like the US Presidential elections, but Facebook has been the target of criticism for sensationalized new and perspectives of late, so it will be interesting to see the direction they take with their news feed going forward.
Twitter fatigue has been another talked about topic this year. The social platform's attempt to keep users engaged with small changes like discounting links and photographs on the character count and  enabling Android live-streaming with Periscope are signs that Twitter won't go down without a fight. 2017 may see big changes for the social platform. Microsoft's acquisition of LinkedIn has also left users asking what they might expect in the time to come.
8. Social selling will expand
According to Forbes and a sales consultancy, social media enabled sales reps outsell their peers by 78%, and about 10.8% of social sellers have closed deals on social media. Social networks enable marketers and sales personnel to effectively identify and connect with prospects. Marketing professionals who we have interviewed have referred to Linkedin as a great platform for social selling. Having a strong social media presence clearly improves a sales rep's performance. You could use your employee advocacy platform to push out content that can set your sales reps up as expert sources in your industry. Prospects who come in contact with active and convincing sales reps are more likely to respond positively.
Social commerce will also grow in 2017. Facebook, Pinterest and Twitter allow purchase on their platforms, and more implementations of the sort will enable social selling and commerce.
9. Social media content marketing will become more "immersive"
We've already discussed how social media platforms are moving toward live and 360° video experiences. Brands now have opportunity to give their customers a more "immersive" experience. More brands are creating webinars and videos on a regular basis. Textual content fatigue has left viewers looking for more, they want to feel like they're not simply staring at a screen. Content isn't only about telling customers what to expect anymore, but helping them experience it.
You can create 360° videos to spotlight your customer experience and organize live webinars to get your fans to engage with you.
10. More virtual/augmented reality solutions will emerge

Pokemon Go created quite a stir early this year. With over 100 million installs in just three months (as recorded by Google Play Store), the app proved that augmented reality could be a serious avenue for social media platforms.
Gaming may currently be dominating the augmented and virtual reality scene, but Facebook's acquisition of Oculus VR in 2014 put the social network in a unique position to merge the two technologies (social and VR). At an Oculus developer summit sometime in 2015, Mark Zuckerberg sparked excitement by posting a 3D avatar selfie from an Oculus VR headset to his Facebook page. Facebook now has a Social VR team and is working on helping people share "not just moments with friends, but entire experiences and adventures," in Zuckerberg's words. What is yet to come remains to be seen, but it has been two years since the acquisition and it is safe to say that exciting things are on their way.
11. Mobile focused marketing will expand
SimplyMeasured has found that almost 80% of time spent on social media is on mobile. Further, the number of smart phone users is predicted to increase to 6.1 billion by 2020. If you're marketing on social media, it is time to focus on mobile users.
Facebook has gone from forcing users to download its mobile app (2014) to having about 62% of them active on messenger (as recorded by Statista). Brands are actively using messenger to resolve customer support issues and share their content. With social mobile users increasing in number, marketers are also likely to focus more resources on targeting them via mobile apps. As a result, social media marketing software will enable mobile versions. DrumUp's employee advocacy platform, for instance, has a mobile version to engage employees who are more comfortable and active on mobile.
12. Reliance on influencer marketing will increase

In a study conducted by Chute and Thuzio 360 (UGC and influencer marketing platforms respectively), 66% of the marketers interviewed said they used social influencers as part of their marketing strategy in 2016. That isn't surprising because companies that invest in influencer marketing are likely to see 7X the return on advertising costs (as recorded by Tomoson). Marketers are likely to continue investing in influencer marketing.
As social media platforms continue to grow their user-base, more content will be created on social and brands will have to break the chatter to reach their audience. Social media influencers have already amassed large and engaged followings relevant to their niche. Brands will need support from influencers in reaching their target groups.
13. Social will become more real-time
When consumers interact with brands on social media, they expect them to respond instantly. Brand pages are even awarded badges on Facebook for swift response, as you probably already know. People post product issues on social and expect them to be resolved. According to Engagor's research, companies can expect a 15% churn rate on failing to respond to customers on social. Considering these facts, social media marketers need solutions to help them manage "social care", and the need will only grow in 2017.
More social media networks are coming into the market, and companies will now have to man the front on multiple platforms. Applications to support "real-time" engagement will become very important. Social media listening tools and social customer service managementplatforms may become indispensable in helping brands be present and active on multiple platforms.
14. Data visualization will gain more prominence
According to research conducted by Adobe, 76% marketers believe that they need to focus on data to succeed. Tech advancements are helping marketers capture more data now than ever. Marketers can see the effects of their activities – an invaluable advantage. Social media analytics tools and platforms are offering marketers insight into how their pages are performing and what they can do to improve effectiveness of their social marketing strategies. However, there is still a dearth of analysis tools capable of making sense on the data that is captured.
Companies hire social media analysts to pull data from tools and turn them into actionable insights. Considering human capacity and the possibility of error, there is still a necessity for software that can accurately interpret data. For instance, on DrumUp, we let you sort engagement metrics for social posts by popularity so you instantly know what is and isn't working for you.
15. More brands will build chatbots

Popular airlines KLM allows customers to receive their boarding passes via Facebook messenger. This happened shortly after Mark Zuckerberg announced that third parties could develop their own chatbots using Facebook's messenger.
We've already discussed how social media users expect real-time responses. Chatbots can make that possible. The bots are intelligent and are designed to answer most questions without the need for human intervention. This type of tech can impact your customer support effectiveness and improve your customer experience. You can also cut down pressure on customer support employees and avoid the overheads of having to hire more manpower.
Companies like Dominoes and TacoBell have experimented with AI – Dominoes ran a "tweet to eat" campaign and TacoBell announced that employees could order tacos via Slack. The orders are authenticated by bots that can scan and act on message text.
16. Brands will invest extensively in personalization
As we stand today, so many of our digital experiences are personalized. Google personalizes our search results, and we're targeted by advertisers on search engines and social media alike. Social media feeds are user-specific. People are used to consuming content tailored to their interests. On DrumUp, we allow you to customize your recommendations to the finest point, which also makes us a great place to promote your content because we suggest them to people who are interested in them.
As a brand, you have to think about how you can personalize your outreach to engage your target audience. There is so much choice available to consumers, that you could lose them by sharing content that doesn't resonate with them. A majority of marketers agree that personalization is becoming increasingly important. Yet, as VP of Adobe Experience Manager and Adobe Target Aseem Chandra has said, we haven't fully grasped the capability of today's tech in personalizing the online and offline consumer experience. As marketers, being fully aware of available tech and its potential, can offer you an advantage. Most social media platforms already offer audience targeting for ads, but it is likely that developments in data reporting will lead to opportunity to do more.
17. Expiring content will drive marketing innovation

It began with Snapchat's 10 second videos and 24 hour "Snapchat stories". Instagram followed suit with Instagram stories. Expiring content seems to have become a social network trend.
According to Kissmetrics' analysis, Facebook post-counts run as high as 1 billion a day. The competition is tough, and most of your posts simply add to rising numbers. With expiring content, you introduce a certain urgency. Brands are being forced to reinvent content to fit the disappearing content trend. A lot of interesting campaigns have come out of the need to work with these platforms.
18. Social media will merge
Most industries begin with large playing fields that narrow down to monopolies over time. Facebook now owns WhatsApp, Instagram and about 50 other companies. Twitter owns Periscope. Google owns YouTube, and Microsoft owns Yammer and LinkedIn.
Social media sites are among the most heavily trafficked sites on the internet, and innovation on the social media front can influence the way the market works. That puts the companies commandeering social innovation in a powerful position, with the ability to decide how social will evolve. The innovation will probably be "consolidated" and focused because of the mergers.
19. Niche-targeting will become a necessity
With the social space growing more crowded, brands have had to increase content creation and marketing. However, to reach more of your desired audience, you'll have to target niche communities.
At present, marketers use groups on social media sites to distribute their content. Active groups are a great place to share because members have "opted-in" to the groups based on their interests. Influencer marketing is also another example of targeting niche communities. By activating niche social influencers, brands can tap into their highly focused communities. With the increasing need to "target" content, innovation in the area is very likely.
20. Social will increasingly be the place to go for news

According to this recent study, more people now rely on social media than traditional media for news, and Facebook is the number one social media destination for news.
During the presidential elections, top news channels like CNN and FOX news were incredibly active on social media. People received real-time electoral vote updates via Twitter and Facebook, they didn't need to watch channel broadcasts. Twitter even tied-up with BuzzFeed to broadcast updates live. It is interesting to note why BuzzFeed picked Twitter to host its live streaming. Using editor-in-chief Ben Smith's words, "Twitter is the heart of American political conversation". Enough said.
Summarizing the top 20 social media marketing trends for 2017 –
1. Businesses of all sizes will adapt social media automation
2. Native advertising will experience an uptrend
3. More brands will invest in employee advocacy
4. Live streaming will spread like wild-fire
5. Social media marketers will increasingly target messaging apps
6. Co-created and user generated content will take center-stage
7. Social media platforms will continue to evolve
8. Social selling will expand
9. Social media content marketing will become more "immersive"
10. More virtual/augmented reality solutions will emerge
11. Mobile focused marketing will expand
12. Reliance on influencer marketing will increase
13. Social will become more real-time
14. Data visualization will gain more prominence
15. More brands will build chatbots
16. Brands will invest extensively in personalization
17. Expiring content will drive marketing innovation
18. Social media will merge
19. Niche-targeting will become a necessity
20. Social will increasingly be the place to go for news